Automatic Filling/Packaging Machines
Other Technologies
Flash Player is required to view this site.


This site is CSS compliant.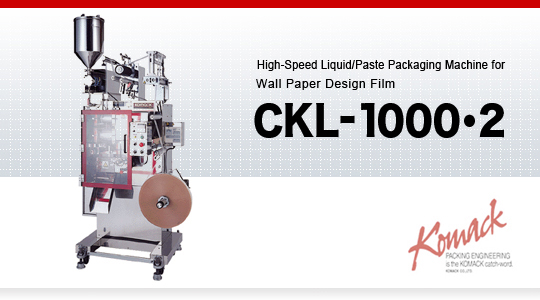 CKL-1000・2
AUTOMATIC HIGH-SPEED AND ENDLESS LIQUID & PASTE PACKAGING MACHINE
CKL-1000・2 is pursued space saving and high productivity automatic endless and fixed pitch high speed packaging machine for liquid and paste. Film roll device installing position is installed at the low position and film-feeding rolls are standard equipped. Therefore, this machine can pass the long film and be designed to contribute to high productivity. This machine is 2 stage rolls method are equipped with (1 and 2 stages) high speed and endless packaging machine for liquid and paste. In addition, this machine is well received in our market and customers as for economy and stability. This machine can package by the seal for preventing liquid or paste from entering the sealed area on pouches without allowing the air to enter in the pouches.
Standard Specifications
Filling material
liquid and paste
Pouch pattern
3-side seal, 4-side seal (Single/Double)
Packaging capacity
20-300 pouches/min
* Actual packaging speed depends on the product pitch, film quality and filling materials.
Filling volume
3-50cc
* Weighing range of filling volume depends on the filling material and feeder.
Pitch variable range
40-120mm
Product width variable range
25-100mm
Number of heating roll stage
3
Film
Width
50-200mm
Diameter
φ400mm (Max.)
Feeding
20m/min (Max.)
Power source
Single phase 200V, 3.15KW
* The power source depends on the filling pump and selecting the other options.
Machine dimension
1,160mm (W) × 900mm (L) × 2,010mm (H)
Machine weight
Approx. 400kg
(Note)
1. The packaging capacity, filling volume and the package size may vary by the selected options. Please contact us for details.
2. The range of the length of the bag may vary by the width of the side seal.
3. The actual filling speed may vary by the film material and the property of the filling material.
4. The range of the filling volume is determined by the "viscosity of the filling material" and the "feeding pump". Please feel free to consult with us.
5. The total power may vary by the specifications of the pump and other optional equipments.