Automatic Filling/Packaging Machines
Other Technologies
Flash Player is required to view this site.


This site is CSS compliant.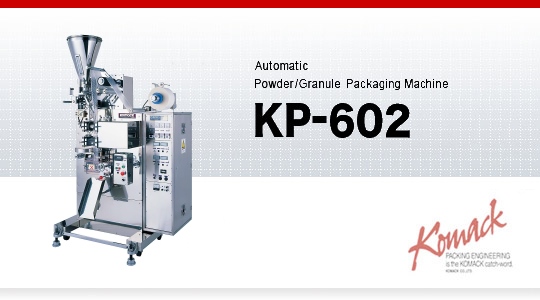 KP-602・2/S
AUTOMATIC POWDER & GRANULE PACKAGING MACHINE
KP-602・2/S is automatic packaging machine for powder and granule. This machine is adopted 2 stages heating rolls method that is developed for powder, granule and pouch pattern is for 3-side seal or 4-side seal.
Standard Specifications
Filling material
powder and granule
Pouch pattern
3-side seal, 4-side seal
Packaging capacity
30-130 pouches/min (Max. machine capacity)
* Actual packaging speed depends on the product pitch, film quality and filling materials.
Filling volume
20-100cc
* Weighing range of filling volume depends on the filling material and feeder.
Pitch variable range
50-150mm (Pitch is changed by heating roll.)
Product width variable range
30-90mm
Film
Width
60-180mm
Diameter
φ400mm (Max.)
Power source
3-phase 380V, 1.6KW
* Power consumption may vary by the selected optional equipments including the filling pump.
Machine dimension
1,300mm (W) × 900mm (L) × 2,000mm (H)
Machine weight
Approx. 600kg
(Note)
1. The packaging capacity, filling volume and the package size may vary by the selected options. Please contact us for details.
2. The actual filling speed may vary by the film material and the property of the filling material.
3. The range of the filling volume is determined by the "viscosity of the filling material" and the "feeding pump". Please feel free to consult with us.
4. The total power may vary by the specifications of the pump and other optional equipments.